It's your theatre
Become a part of the passionate community of theatre-goers who enjoy live music, comedy, Broadway performances, classic films and more at the historic Peoples Bank Theatre. Ticket sales, concessions and theatre rentals cover approximately two thirds of our annual operating budget. The generous support of our community helps make up the difference. Your membership will help sustain everything you love about Peoples Bank Theatre, and you will enjoy the benefits for an entire year. Together, we can enchant, enrich and enlighten the entire Mid Ohio Valley!
Benefits of Membership: Early access to tickets. Ticket exchange and upgrade privileges. Opportunities to meet the stars. Peoples Bank Theatre Members enjoy early access to tickets to Spotlight Series performances and special events for choice seating. Members can also exchange or upgrade their tickets up to one day before the show. Members at the Supporter level and above enjoy complimentary tickets and drink tickets that can be shared with family and friends. At the Patron level and above, members are invited to VIP functions, our annual member gala, and select Meet the Artist opportunities.
Enchant: World renowned artists and up-and-coming locals on the same stage, in an intimate vaudeville-era house. That same exciting intimacy means our size is a financial constraint. Peoples Bank Theatre only thrives with the support of our community.
Enrich: Since the theatre's reopening in January of 2016, numerous nonprofits and community arts groups have used the space to raise funds for their own organizations and showcase their work. Rain or shine, Peoples Bank Theatre is here for our community.
Enlighten: With your support our stage is able to play host to touring theatre performances, international touring artists and other exciting and important opportunities from around the globe. Peoples Bank Theatre opens new windows on the world for our community.
There are three ways to start your membership with Peoples Bank Theatre.
Contact our box office at 740-371-5152.
Download our Membership Guide, complete the registration form and mail with your payment to:
HCHTA
Attn: Peoples Bank Theatre
PO Box 1018
Marietta, OH 45750
Review our Membership Terms.
See our Member Benefits below: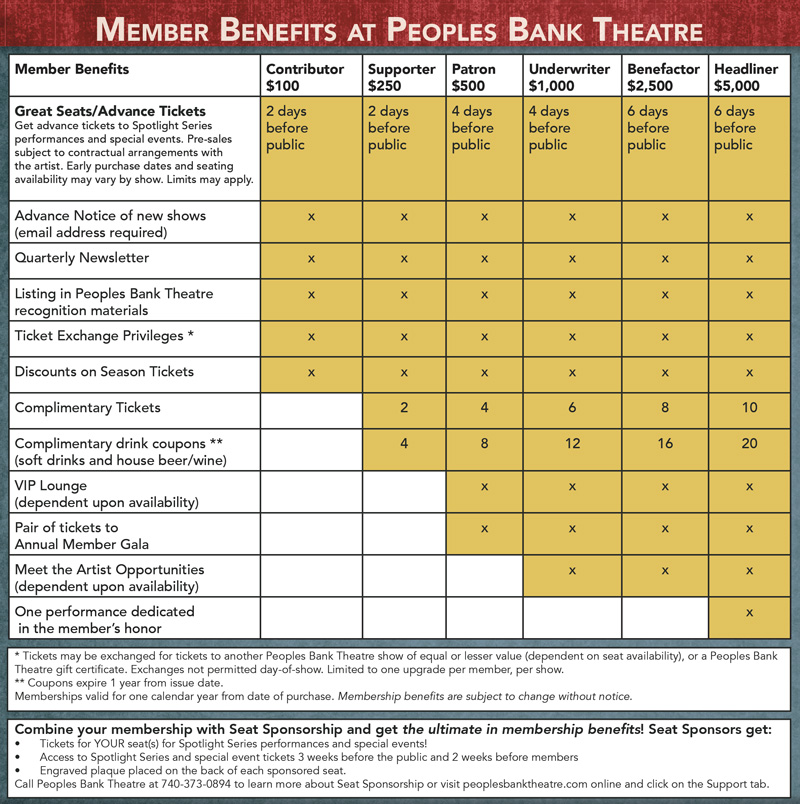 Peoples Bank Theatre is managed by the Hippodrome / Colony Historical Theatre Association, a 501c3 nonprofit organization.