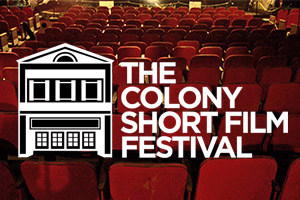 TICKETS
Single Day Tickets ($10)
Two-Day Passes($15)
Student and Senior discounts are available in-person, at the Box Office. Students must present a valid student ID.
This year we are extremely proud to present the Tenth Annual Colony Short Film Festival at the newly restored Peoples Bank Theatre. After falling silent 1985, the theatre will have its grand opening in January of 2016. We're looking forward to an exciting array of programming and will once again feature films on the big screen!
As a small festival, located in the beautiful town of Marietta, Ohio, we provide many occasions for filmmakers the audience to interact.
Previous guests have included Emmy award winning filmmaker Pam Tanner Boll who produced "Born into Brothels," Danny Boyd, Director of "Strange Dreams: Invasion of the Body Snatcher" and "Chillers," Documentary Filmmaker, Jacob Young, renown for the cult classic "Dancing Outlaw", Brad Kalinoski, digital artist for "Black Swan", and from locals Josh Crook and Will Wedig for their films, "Salvage, "LaSoga" and "Forged".
Friday
5 p.m. Opening & Registration at Peoples Bank Theatre. (Details TBA week of February 22)
8 p.m. Special Screening: Battle Hymn (Universal, 1957)

Starring Rock Hudson as Marietta native Colonel Dean E. Hess, a real-life United States Air Force fighter pilot in the Korean War. Hess's autobiography of the same name was published concurrently with the release of the film, which had its premiere in Marietta at the Colony. Hess donated his profits from the film and the book to a network of orphanages he helped to establish.
Saturday
10 a.m. – Registration (ongoing)
10 a.m. – Screenings (schedule TBA week of February 22)

Including

Workshop by Josh Cook
Presentation by Jamie Lee Smith

8 p.m. – Premiere: Arcadia (Zetetic Studios, 2016)

This art house-style film by Marietta film maker Andy J. Hall has it all—striking visuals, fire-breathing, vintage performers, art, music, philosophy, excitement, humor, danger, riddles and conundrums. Experience a magazine reporter's journey as he navigates through a surreal forgotten underground world. A unique experience awaits you in ARCADIA.
Awards & Prizes
Best of Festival Trophy – $500 Cash award
Best Local Film-"The Brian Meade Award" -$250 cash award
Best Student Film – $250 cash award
Best Animation
Best Documentary