Become a part of the passionate community of theatre-goers who enjoy live music, comedy, performances, classic films, and more at the historic Peoples Bank Theatre!
Ticket sales and concessions cover approximately two-thirds of our annual operating budget. The generous contributions of our community help make up the difference. Your membership will help sustain everything you love about Peoples Bank Theatre, and you will enjoy the benefits for an entire year. Together, we can enchant, engage, and enrich Marietta and the entire Mid-Ohio Valley!
How Membership Helps
Our Members Make It Possible To:
Enchant: World renowned artists and up-and-coming locals on the same stage, in an intimate vaudeville-era venue, right in the heart of our hometown. That same exciting intimacy means our size is a financial constraint. Peoples Bank Theatre thrives only with the support of our community.
Engage: Friends, families, neighbors and community groups are building new connections through shared experiences. Since the theatre's reopening in January of 2016, dozens of nonprofits and community arts groups have used the space to raise funds for their own organizations and showcase their work. Not to mention, thousands of students have experienced their first live performance through our educational outreach programs!
Enrich: With your support, our stage is able to play host to touring theatre performances, international touring artists, and other exciting and important opportunities from around the globe. Peoples Bank Theatre is opening new windows on the world for our community. Members help us open wide the doors of our historic building to those near and far, through tours, community events, and activities of educational and nonprofit partners in Marietta and the Mid-Ohio Valley. If you are interested in a Membership, please visit or contact our Box Office at 740-371-5152 or tickets@nullpeoplesbanktheatre.com.
Membership Benefits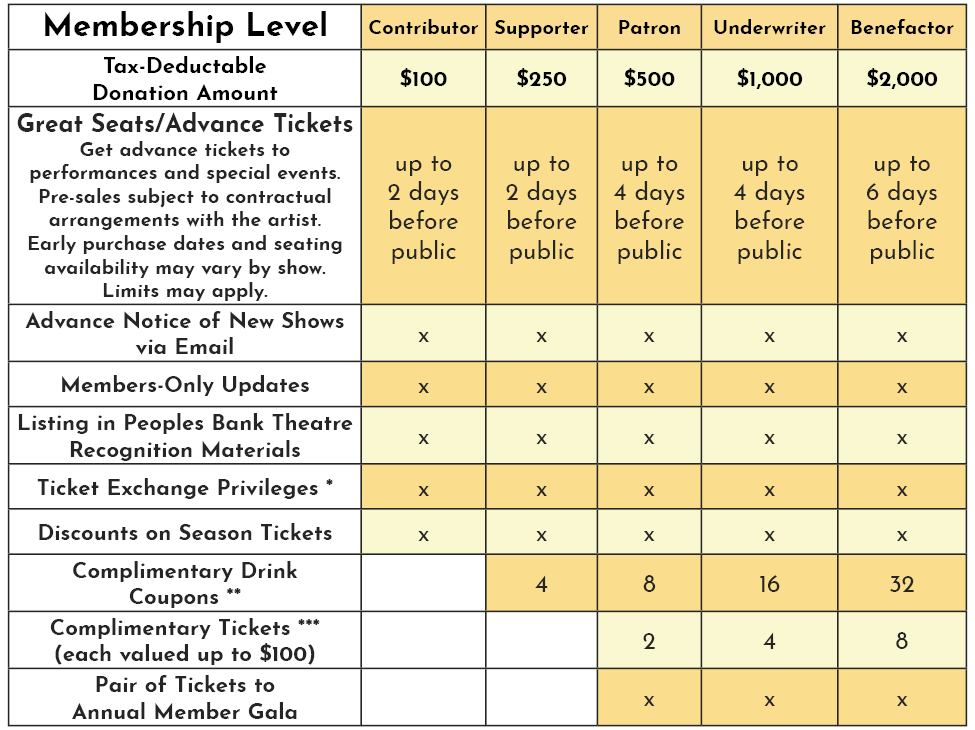 Membership benefits are valid for one calendar year from date of purchase.
* Tickets may be exchanged for tickets to another Peoples Bank Theatre show of equal or lesser value (dependent on seat availability), or a Peoples Bank Theatre gift certificate. Exchanges are not permitted day-of-show. Limited to one upgrade per member, per show.
** Coupons expire 1 year from issue date. Applies to soft drinks and house beer/wine only. Limits and exclusions may apply to complimentary tickets vouchers for some events and theatre rentals.
*** Complimentary ticket vouchers must be redeemed within the year of the membership term. Unused ticket vouchers expire at the end of each membership term and do not carry over when renewing.
Membership benefits may change without notice.
The Peoples Bank Theatre is a 501 (c) (3) non-profit corporation and memberships are tax-deductible to the full extent of the law.
PLEASE NOTE: The portion of your membership gift representing value of complimentary tickets received is NOT deductible.
Order Your Membership Now
For any questions about membership benefits in general, or for a specific show, please contact our Box Office at tickets@nullpeoplesbanktheatre.com or 740-371-5152.