TICKETS ON SALE NOW
$40/50/60
Watch Brandi:
Brandi Carlile – The Story

Brandi Carlile – Firewatcher's Daughter – Nelsonville Music Festival 2015

Brandi Carlile Video – Acapella Austin City Limits

Brandi Carlile with Avett Brothers

Brandi Carlile Hurricane Trio

Peoples Bank Theatre presents Brandi Carlile live in concert. Since her heralded, genre-defying 2005 Columbia debut, Brandi Carlile and her indispensable collaborators, Tim and Phil Hanseroth, aka The Twins, have always offered listeners both control and abandon, often within a single song. The most well-known Brandi Carlile tunes, 2007's "The Story" and 2012's "That Wasn't Me," are dynamic journeys in themselves, encompassing myriad emotions and varied stylistic touches; "The Story" morphs from understated balladry to epic stadium rock, while "That Wasn't Me" effortlessly straddles country soul and pop gospel. Infused with Carlile's clarion voice, The Twins' tight sibling harmonies, and stellar musicianship from everyone, it all simply sounds like Brandi Carlile.
Read More...
Yet, over four acclaimed Columbia albums, countless sold-out concerts, and fruitful relationships with top producers Rick Rubin and T Bone Burnett, something was missing: Carlile and The Twins hadn't yet captured the distinctive spark of old friends working up new tunes, a slippery magic born of years touring together, and often caught only on raw demos made at the behest of the label. The Firewatcher's Daughter, by contrast, is a full-on Carlile/Twins co-production, cut live in Seattle's Bear Creek Studio, with complete artistic control granted by ATO. With this new freedom, Carlile and The Twins, intent on capturing the elusive essence of a song's spirit, tracked the album live, with little or no rehearsal.
Ironically, during this time of liberation, Carlile and The Twins all transitioned to married life; the Hanseroths became dads, and Carlile's wife, Catherine Shepherd, was pregnant during the making of The Firewatcher's Daughter. So when the engineer hit RECORD, the stakes were higher than usual: Carlile and the Twins producing, kids underfoot or on the way, and three years since an album. But true to form, they wrangled it all into song, catching many, many lightning-in-a-bottle moments; the crackling Lucinda Williams-meets-Fleetwood Mac of "Wherever Is Your Heart," the CSN-meets-Bonnie Raitt of "The Eye," to the dark folk-punk of "The Stranger at My Door," the Elton John-meets-McCartney of "Beginning to Feel the Years," and more – all executed without a net.
"Everyone needs to be risking something," says Seattle-based singer-songwriter Brandi Carlile. She's discussing the M.O. behind The Firewatcher's Daughter, her stunning new release – her first for artist-friendly indie label ATO. The 12-song collection marks a triumphant return after a three-year recording hiatus, and her strongest, most rock & roll album to date.
"Rock & roll music as a genre always has a sense of erratic recklessness to it," she says. "It can't really be rehearsed – in fact, rehearsal can kill it. On this album, each song has its honest rock & roll moment, even the ballads; it's between the point where you've learned the song enough to get through it, but you don't have any control over it yet."
"Everything is completely live," Carlile says. "That's the only way to make the moment happen. It's way too easy to say, 'Hey guys, you get your part down and I'll spend the rest of the evening by myself in a fucking booth not taking any risks, and trying to nail down my contribution while I drink a bottle of Jameson.' A lot of the songs are in about the highest key I can sing them in. The vocals were very emotional for me. I was right on the edge – I'd been off the road for a long time, I was on the precipice of becoming a mother, and there was a lot that needed to come out before that could happen."
(Due to the late-breaking nature of this concert and artist terms, Peoples Bank Theatre regrets that it is unable to offer Seat Sponsor pre-sale tickets for this performance. All tickets go on sale Friday, March 4 at 10 a.m.)
The title, The Firewatcher's Daughter, comes from a line in "The Stranger at My Door," written after Carlile stared into a bonfire for a long, long time. "I wrote it standing next to one of my frequent bonfires up in the horse pasture on our land. I have a bonfire compulsion. I tend to stand there and stare into them close to every day, and I'm able to tap into something beyond my day-to-day consciousness. I often write lyrics, solve problems, run for President – the usual stuff. Catherine was pregnant and I was contemplating the juxtaposition between religious rigidity and beauty, and its effects on families and society."
Carlile says she and The Twins always insert a through-line in her albums: "An instrument keeps appearing, a theme keeps getting touched on, or we try to use the same microphone. But of all my albums, I felt the least amount of control over this one. Catherine was nine months pregnant, The Twins' kids were there, the tension was there, but the love was also there, so the continuity is felt."
Part of that continuity is the concept of "chains," which recurs over the course of The Firewatcher's Daughter, from the lullaby "Wilder (We're Chained)" to the chorus of the gorgeous "The Eye": "I wrapped your love around me like a chain / But I never was afraid that it would die / You can dance in a hurricane / But only if you're standing in the eye." Carlile lays this chain fascination at the feet of Fleetwood Mac, a band she and The Twins listened to a lot in the run-up to The Firewatcher's Daughter, and whose classic love song "The Chain" is bittersweet reality. "The twins and I were inspired by that band's connection and their turbulence," she says. "I find it fascinating how culturally some things can get cast in a negative light, like a chain. But a chain can bind and connect, like a fire can refine and renew. We would definitely describe ourselves as chained in the best possible way."
After stepping back from this fine new work and assessing it, Carlile knows exactly what she wants from The Firewatcher's Daughter: "My goal," she says, "is to connect on a soul level with our longtime fans and friends, and to reach new people with the honesty of this music. Also, I would like my daughter, Evangeline, to grow up and think I'm cool."
With Special Guest: RUBY AMANFU
website | facebook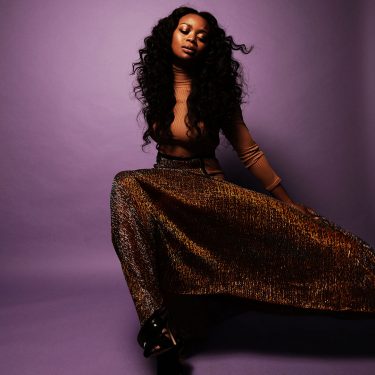 Standing Still, the serenely stunning and incredibly intimate album by Nashville songbird Ruby Amanfu, will be released via Thirty Tigers / Rival & Co Records on August 28th. Ruby, backed by a six-piece band, created Standing Still in just five days, recording and living in a secluded log cabin in the rolling hills of Tennessee. Upon arrival at the cabin, producer Mark Howard (Bob Dylan, Neil Young, Emmylou Harris) strategically set up guitar and organ amps in bedrooms, bathrooms, closets and the basement, while Ruby set the stage, creating a mystical atmosphere for her performance by lighting candles and burning incense. The band formed a semi-circle in the living room and Standing Still reflects that intimacy. The entire album was recorded live, without bells, whistles or ProTools. "I felt at ease with my feet on those wood floors, gazing out those windows to the forest while I sang," Ruby remembers. "It was simply nature and it was simply music – both in their purest forms. All that was left to do was breathe."
Read More...
Standing Still consists mainly of deep cuts by an eclectic array of songwriters and artists, songs that span a century of music history, from Woody Guthrie to Kanye West. Standing Still includes Ruby's staggering take on Irma Thomas's 1964 soul gem, "Anyone Who Knows What Love Is (Will Understand)", British cult hero Richard Hawley's "As the Dawn Breaks" and Bob Dylan's heart wrenching "Not Dark Yet". With Kanye's deep cut "Streetlights", Ruby flips hip- hop on its head, transforming the song from a rap dirge into a gorgeous waltz. Patrick Carney of the Black Keys dropped by the log cabin on Day 3 and produced "Shadow on the Wall", a song written by folk-pop songstress Brandi Carlile. Standing Still closes with Ruby's own gorgeous composition, "I Tried". "Everything came together so quickly," says Ruby. "We came up with the concept and the vibe and the songs and then just went and did it."
Ruby Amanfu was born in Ghana, and her tight-knit family moved to Nashville when Ruby was just three. Ruby soaked up the sounds of Music City, and it wasn't long before the town took notice of her incredible gift. Standing Still centers around Ruby's ethereal and versatile voice, which has been garnering her critical acclaim since the third grade, when she crushed her classmates at the annual talent show and won the grand prize: a pack of 10 gumballs. By age fifteen Ruby was the youngest member of the Nashville Symphony Chorus as well as writing and recording her own material. Soon she was half of Sam & Ruby, whose 2009 album, The Here And The Now, was named Associated Press's Album of the Year, and is considered a landmark in Nashville's thriving pop scene. And Ruby has always been a first call as a studio vocalist, collaborating with artists as diverse as Kelly Clarkson, Jason Isbell, Norah Jones, Brittany Howard, Ben Folds, Hozier, Joy Williams, Jakob Dylan, Buddy Miller, Butch Walker, Alison Mosshart, Ann Wilson, Patti LaBelle and Wanda Jackson. In 2011, Ruby was hand-picked by Jack White to be his singing partner on his first solo album Blunderbuss. Their duet, "Love Interruption", became Jack's first hit as a solo artist, and Jack and Ruby performed an incendiary version of "Love Interruption" live at the 2013 Grammys.
In November of 2013, Ruby's life and career took an unexpected turn. "I was performing at a benefit show called Dylan Fest in New York City, and I sang a Dylan song called 'Not Dark Yet,'" she remembers. "The lyrics are so beautiful and poignant. They resonated with me, especially at that particular time in my life, and quite honestly, left me onstage in tears." Ruby's performance electrified the packed house, (which included Patrick Carney) and earned her a rapturous five-minute ovation. "It was a moment that I will never, ever, forget," Ruby says, "I saw tears on peoples' faces in the crowd, much like my own. And the next night, at the second Dylan Fest, I performed the song again and it happened then, too. It was, like, the most wonderful kind of déjà vu."
After that show, Ruby huddled with the band and the producers of the show and a plan was hatched to regroup and make an album as soon as possible. "The idea was to choose a bunch of amazing, obscure songs that really fit what I was feeling at the time, and could sing like they were my own, and put them through the prism of myself with this band," says Ruby, who is also a Grammy-nominated songwriter, for her song "Heaven's My Home." "I'd originally planned to release an album of all of my own songs, but sometimes the universe just leads you where you're not expecting to go. Besides, all the greats have made albums of other peoples' songs. From Aretha, to Emmylou, even Dylan. I felt I could follow in that tradition. I felt I had something to contribute."
Legendary music man Mark Howard, who has worked with Daniel Lanois on landmark albums like Bob Dylan's Time Out of Mind, Willie Nelson's Teatro and Emmylou Harris' Wrecking Ball, was brought on board to engineer and produce, and Ruby collaborated with Standing Still's co-producer (and Dylan Fest founder) Austin Scaggs on an eclectic list of songs to record.
"Every lyric I sang meant the world to me," she says. "The five days we spent in the cabin making Standing Still feel like a dream…but it wasn't just a dream, and we have the album to prove it."