With Sienna Stocky opening!
About Clint Black
It is one of the most storied careers in modern music. Clint Black surged to superstardom as part of the fabled Class of '89, reaching #1 with five consecutive singles from his triple-platinum debut, Killin' Time. He followed that with the triple-platinum Put Yourself in My Shoes, and then a string of platinum and gold albums throughout the '90s. Perhaps most impressively, Clint wrote or co-wrote every one of his more than three dozen chart hits, including "A Better Man," "Where Are You Now," "When My Ship Comes In," "A Good Run of Bad Luck," "Summer's Comin'," "Like the Rain" and "Nothin' But the Taillights," part of a catalog that produced 22 #1 singles and made him one of the most successful singer/songwriters of the modern era.
Along the way, Clint has sold over 20 million records, earned more than a dozen gold and platinum awards in the U.S. and Canada, landed nearly two dozen major awards and nominations, including more than a dozen Grammy nominations, and earned a star on the Hollywood Walk of Fame.
About Sienna Stocky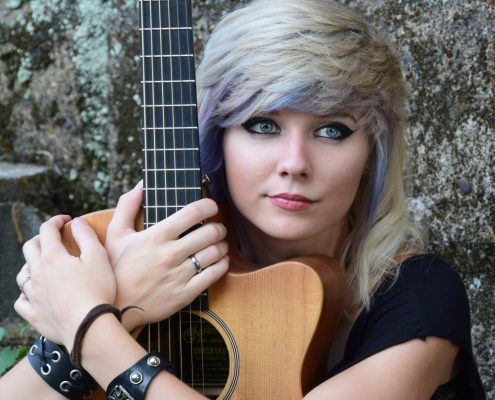 Sienna Stocky is a young and talented singer songwriter with a distinctive voice that will quickly capture your heart.  Sienna's music is in the alternative vein and her lyrics are well beyond her nineteen years.  Her music hints of Celtic influences but with a youthful American edge.  Sienna has recorded her own material at MovieSound Studios with Emmy Award-winning producer/composer David Traugh.  Her first CD, "Intertwined" is now available on iTunes or at siennasongs.com.  Sienna will also be appearing on the PBS show "Songs at the Center" which will air in May, 2018 on 146 stations in 25 states.
Sienna first sang on stage at a small music festival in the hills of southeast Ohio when she was just four years old.  At the age of nine, she was singing in front of thousands at campaign stops for Vice President Joe Biden.
Several years of traditional piano lessons helped provide a good musical foundation but Sienna always felt confined by the written score and began to compose her own melodies.  Despite this, she was hesitant to pair up her original piano pieces with lyrics.  She explains, "One day I was playing a piece I had written when my dad convinced me to just hum along with it".  Within three months Sienna was writing her own songs with both words and music.  Sienna is now accompanying herself on both piano and guitar and has become a prolific songwriter. Sienna has made a deliberate effort not to emulate other artists and has developed a sound and style which is compelling, recognizable, and all her own.