Featuring Charlie Hunter & Lucy Woodward,
John Paul White,
Molly Tuttle,
Charley Crockett,
& Jeff Black
Mountain Stage returns to Marietta, Ohio!
For more than 30 years, Mountain Stage with Larry Groce has been the home of live music on public radio. Produced by West Virginia Public broadcasting and distributed by NPR Music, each two-hour episode of Mountain Stage can be heard every week on more than 200 stations across America, and around the world via NPR Music and mountainstage.org. Recorded in front of a live audience, Mountain Stage features performances from seasoned legends and emerging stars in genres ranging from folk, blues, and country; to indie rock, synth pop, world music, alternative, and beyond.
Charlie Hunter & Lucy Woodward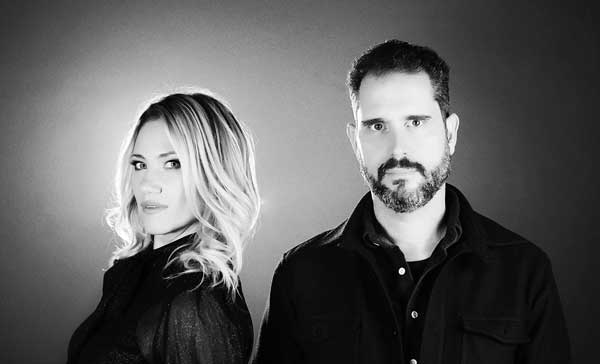 An exhilarating blast of blues, soul and funk, Music!Music!Music! marks the recorded debut of the musical partnership between guitarist Charlie Hunter and vocalist Lucy Woodward.
The duo first performed together in January 2018, when Woodward — fresh off supporting her fourth solo album, 2016's Til They Bang on the Door — joined forces with Hunter as a last- minute fill-in on a tour he'd originally booked with Mexican singer-songwriter Silvana Estrada (whose visa application had been denied by the U.S. Department of Homeland Security). Bonded by their shared love of blues, Hunter and Woodward quickly constructed a setlist of favorite songs and hit the road. Within less than a week of playing shows together, they realized that they'd hit upon something very special, indeed.
Recorded in November 2018 at Stephen Lee Price's studio in High Point, NC, with longtime Hunter collaborator Derrek Phillips on the drums, Music!Music!Music! features eleven radically reworked covers of songs by artists ranging from Blind Willie Johnson and Bessie Smith to Nina Simone and Terence Trent D'Arby. Soulful, spacious and deliciously in the pocket, Music!Music!Music! showcases the dazzling interplay between Hunter's funky guitar and Woodward's powerful voice, while also reflecting the spontaneity and good vibes of the duo's live performances.
Hunter and Woodward will return to the road this spring to take Music!Music!Music! to the people. The tour for the album will stretch over much of 2019, with the duo going to Europe and Japan as well as all over North America.
John Paul White
John Paul White grew up in tiny Loretto, Tennessee, and now lives in Florence, Alabama, not far
from Muscle Shoals. He has cultivated his career in Nashville for two decades, first as a songwriter for a major publisher, then as half of The Civil Wars – a groundbreaking duo that won four Grammy Awards before disbanding in 2012. Because The Civil Wars were so hard to categorize, White has earned a fan base among indie rock listeners, folk audiences, Americana outlets, and AAA radio.
Molly Tuttle
A virtuosic, award-winning guitarist with a gift for insightful songwriting, Molly Tuttle evolves her signature sound with boundary-breaking songs on her compelling debut album, When You're Ready. Already crowned "Instrumentalist of the Year" at the 2018 Americana Music Awards on the strength of her EP, Tuttle has broken boundaries and garnered the respect of her peers, winning fans for her incredible flatpicking guitar technique and confessional songwriting. Graced with a clear, true voice and a keen melodic sense, the 26-year-old seems poised for a long and exciting career. When You're Ready, produced by Ryan Hewitt (The Avett Brothers, The Lumineers) showcases her astonishing range and versatility and shows that she is more than simply an Americana artist.
Charley Crockett
Growing up with a single mother in San Benito, Texas, the hometown of Tejano star Freddy Fender was not easy for blues singer Charley Crockett. Hitchhiking across the country exposed Crockett to the street life at a young age, following in the footsteps of his relative, American folk hero Davy Crockett, who also lived a wild life on the American frontier. After train hopping across the country, singing on the streets for change in New Orleans' French Quarter, busking in New York City and performing across Texas and Northern California, Crockett set off to travel the world and lived on the streets of Paris for nearly a year before searching for home in Spain, Morocco, and Northern Africa.
The blues artist returned home to Texas and released his debut solo album titled A Stolen Jewel in 2015, receiving critical acclaim in Dallas and ultimately landing him a Dallas Observer Music Award that year for "Best Blues Act". A record "rich with Southern flavor, a musical gumbo of Delta blues, honky-tonk, gospel and Cajun jazz," Jewel proved that Crockett, born into poverty in the Rio Grande, had come home to make his musical mark on the South. Crockett, who is self-described as elusive, rebellious and self-taught, has been compared to legends like Bill Withers, Merle Haggard, and Gary Clark Jr.
He released his sophomore record In The Night, an admirable nod to his Texas country and Louisiana blues roots, on June 4 and ended 2016 having played over 125 shows. "In the Night" and Crockett's song "I Am Not Afraid" received international recognition from top tastemakers after being picked by NPR Music as one of the "Top 10 Songs Public Radio Can't Stop Playing" and selected by David Dye to be featured on World Cafe in late July. The Fort Worth Star-Telegram called it "an impressive calling card, full of Crockett's plaintive soulfulness and swinging tempos" and Central Track noted the artist as having "the well-rounded songwriting capabilities of Van Morrison and a vocal approach that finds common ground between Bill Withers and early Dr. John." Crockett graced the cover of Buddy Magazine in May 2016, who called him "the archetype of the new American vagabond."
He has shared the stage with artists like Turnpike Troubadours, Leon Bridges, Justin Townes Earle, Citizen Cope, Alejandro Escovedo, Joe Ely, Sean Hayes, Tab Benoit, Ace Enders and others.
Jeff Black
"His words and voice hold down center stage with a craft so deeply in the artistic pocket that it obscures anything outside" 
– No Depression
It's the truth behind what an artist does and the way they choose to do it that defines their art. And while the ways in which audiences get their music has changed, the reasons why a certain kind of artist makes music have remained the same. Call it an uncompromising commitment, an inspired motivation, or just the need to share with and connect to those who listen. For Jeff Black, it is his life's work that has driven him to build a career like few other singer/songwriters in the business. Boston's WUMB listeners voted Jeff Black as one of the top 100 most important Folk artists of the last 25 years.
Black's songs have earned GRAMMY recognition, radio chart-topping stats and numerous BMI awards. Although flying below the radar as a performer himself, he has been recognized by NPR as a musical pioneer in the digital age and his catalogue of critically acclaimed albums continues to grow. Composing music for film and television, his credits include numerous indie-film soundtracks and a repertoire of songs cut by artists as diverse as Alison Krauss & Union Station, Waylon Jennings, BlackHawk, Dierks Bentley, Jon Randall, John Oates, Jerry Douglas and Sam Bush. Black has forged a reputation as a true folk troubadour entertaining audiences globally for over three decades. A master songwriter and performer in the tradition of the great storytellers, his passionate, soul driven live performances of songs from his vast catalog are not to be missed.
Folklore is the 10th release from the prolific songwriter. Recorded over a 2 day period in Nashville, Tennessee at Arcana Studios, Jeff Black arms himself with a guitar, harmonica and a banjo to traverse the clay-dust roads that trace the cutting edge of pop culture, delivering a collection of modern folk and acoustic classics.
"The tradition of an artist delivering songs that are damn near perfectly crafted and filled with the wisdom of the ages."
– Jedd Beaudoin | PopMatters