Presented with support from Tenney & Associates. 
With Special Guest Micah Kesselring
Robert Cray has been bridging the lines between blues, soul and R&B for the past four decades, with five Grammy wins and over 20 acclaimed albums. For his latest project, Robert Cray & Hi Rhythm (April 28 / Jay-Vee Records), the Blues Hall of Famer traveled to Memphis with his friend, renowned Grammy Award winning producer Steve Jordan, to make a classic soul album with Hi Rhythm, the band that helped create that sound.
Cray's signature blend of rhythm and blues, pop, rock, soul, and traditional blues have made him a standout, prompting Guitar Player Magazine to declare: "Cray is not only making great music, he's making history."
His Grammy-winning 1986 album Strong Persuader made Cray a leader of the '80s blues resurgence alongside Stevie Ray Vaughan and The Fabulous Thunderbirds, and propelled hits "Smoking Gun" and "Right Next Door (Because of Me)" onto the charts the year of its release. He followed that success with his next Grammy winner, Don't Be Afraid of the Dark (1988), which featured the hit single of the same name.
Robert Cray has lead a celebrated career as a blues musician. In the 1978 film National Lampoon's Animal House, Cray was the uncredited bassist in the house party band Otis Day and the Knights. In 1992, Cray was invited to play at the "Guitar Legends" concerts in Seville, Spain where he played a signature track, "Phone Booth". He supported Eric Clapton on his 2006-2007 world tour, even performing with Clapton on backup guitar for the Cream song "Crossroads".
Micah Kesselring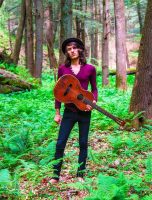 Micah Kesselring, 23, has performed blues music since he was 14 years old. Raised in the Appalachia foothills of southeastern Ohio, Kesselring quickly made his way onto the Columbus blues music scene after playing smaller hometown shows, and became acquainted with the Columbus Blues Alliance. He soon made his way down to Memphis, TN for the International Blues Challenge, representing the Columbus Blues Alliance in the Youth Showcase category. Following a performance at the Blues City Cafe on Beale Street, he was awarded the inaugural Generation Blues scholarship at the age of 15 to the Centrum Port Townsend Acoustic Blues Festival & Workshop in Port Townsend, Washington, which was presented to him by Cassie Taylor at the IBC band finals. Micah later went on to perform as a special guest with the Otis Taylor Band at the Blues Music Awards in May of 2009, and performed at numerous festivals, including the Heritage Music Bluesfest in Wheeling, West Virginia, the Traditional Acoustic Blues Festival in Worthington, Ohio, the Grey Skies Blues Fest in Tacoma, Washington, Creekside Blues & Jazz Festival in Gahanna, Ohio and the Big Bend Blues Bash in Pomeroy, Ohio, throughout the next couple of years. In 2016, Micah made the finals at the 32nd International Blues Challenge in Memphis placing in the Top 8 out of nearly 300 acts worldwide.