Happening inside The Stage Door at 224 Putnam Street in Marietta.
Doors open at 6:30 pm.
This project is made possible through the Central Appalachia Living Traditions Folk & Traditional Arts Experiences program of Mid Atlantic Arts. 
Hilarie Burhans has been playing clawhammer-style banjo for 50 years. She is passionate about passing on what she has learned to others, and thanks to new online platforms, she now has students all over the world. With her band, the Hotpoint Stringband, she built on her foundation of Appalachian reels and hoedown tunes to become one of the leading contemporary American contradance bands in North America.
From Hilarie Burhans:
I've been playing and teaching my driving clawhammer banjo style for more than 45 years.  I'm the co-founder of the nationally-touring Hotpoint Stringband, with whom I have recorded five albums, and I've collaborated on too many other musical projects to count. A track from my solo CD was featured on an episode of the acclaimed HBO series Deadwood. Well over 5000 subscribers enjoy my YouTube banjo channel, and my banjo instructional Patreon has more than 500 paid subscribers.  In my younger days,  I won the Ohio State Banjo Contest nine times, and am very proud to have placed in the contests at the Appalachian Stringband Festival (Clifftop) a number of times (3rd in Banjo, and First Place in both the Traditional Band and NeoTraditional Band contests.)
I love teaching banjo, and especially love working with beginners and with folks making the transition from learning note-by-note from an instructor or tablature to learning tunes from recordings or "on the fly" at jams.  Check out my lessons page for more info.
I live in Athens, Ohio, and am lucky to be the wife of a fiddler (Mark Burhans) and also the mother of a fiddler (Ry Burhans.) I grew up in Arizona, Wisconsin, Karachi in Pakistan, Massachusetts, Addis Ababa in Ethiopia, and then, after 9th grade, moved to the college town Athens in the Appalachian part of Ohio. I feel deeply rooted here but have not lost my love for travel, and have dragged a banjo with me to India, Nepal, Australia, Costa Rica, Portugal, England, France, and Germany, and have taught banjo workshops in many of those countries.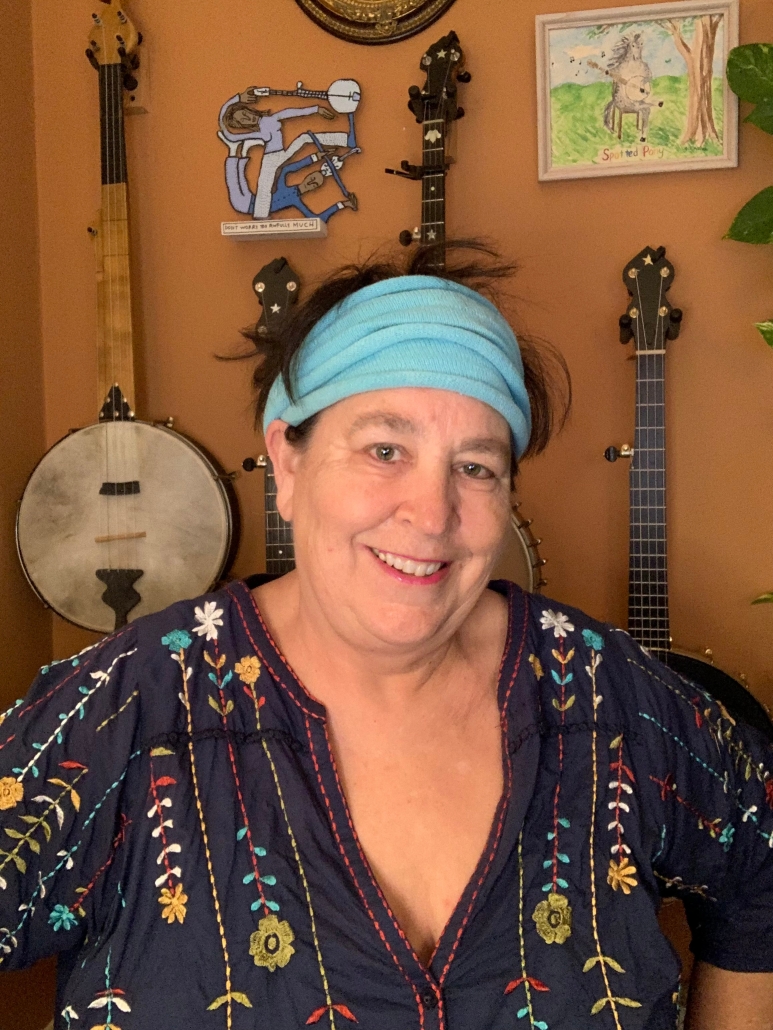 The CALT Sessions (An Appalachian Music Series)
Grammy Winners, WV Music Hall of Fame Inductees, and regional heroes will join us this summer for this entertaining and informative new series made possible by Central Appalachia Living Traditions (CALT) and the Mid Atlantic Arts! 
The artists will discuss how Appalachian traditional music and culture have influenced their contemporary works. All the artists will be performing and taking questions from attendees. 
The series will take place inside The Stage Door at 224 Putnam Street in Marietta, in a close, intimate environment. The events will be free to the public, but you must have a ticket. Tickets will be released online two days before each event.