Sponsored by Froggy99, Grae-Con, and Huntington Bank.
With Special Guests Steve Hussey & Jake Eddy.
Peoples Bank Theatre opens its Summer-Fall Season with the return of Travis Tritt, whose solo acoustic performance was part of the theatre's grand reopening in January 2016. This time, Tritt returns with his full band, just after celebrating his 25th Anniversary with the Grand Ole Opry.
More than 25 years after Tritt launched his music career, the Grammy award-winning artist continues to sell-out shows across the globe. A Marietta, Georgia native, Travis Tritt is dubbed one of "The Class of '89," which included Country music superstars Garth Brooks, Clint Black and Alan Jackson; all of whom dominated the charts in the early 1990s. Among his eleven studio albums and numerous charted singles are nineteen Top 10 hits, including "Modern Day Bonnie and Clyde," "Here's A Quarter" and "It's A Great Day To Be Alive." Over the course of his career, he has amassed more than 25 million career album sales, two Grammy award wins and multiple No. 1 singles on the Country radio charts. Most recently, Tritt released a special live 2-disc CD and DVD, titled "A Man and His Guitar – Live From The Franklin Theatre."
Steve Hussey & Jake Eddy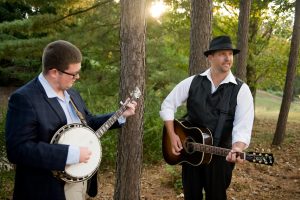 Steve Hussey and Jake Eddy originally started working together in 2014, when Steve hired Jake to record a few songs for Steve's upcoming wedding. That went so well they continued working together recording a full length LP. The result, "The Miller Girl," draws on their influences in the genre including Old Crow Medicine Show, the Avett Brothers and Jason Isbell.
Based out of Washington, West Virginia, they form a formidable duo. The album "The Miller Girl" explores themes of the transformational power of love and is dark, funny, and wistful by turns and features something that's lost is a lot of modern music: innocence.
Jake is a West Virginia state flat picking champion and multi-instrumental virtuoso who has played with Bluegrass legend Melvin Goins' band. He has also played with James King and shared the stage with Idletymes, Don Rigby, and Remington Ryde to name a few.
Steve is a well known regional songwriter best known in the region around West Virginia for his work with the eponymous Steve Hussey Band. A veteran performer, he has shared the stage with .38 special, Eddie Money, and the Davisson Brothers, among others, while entertaining crowds at clubs and fairs and festivals all over the region.
"The Miller Girl" was released November 2016 on their label Merf Records.