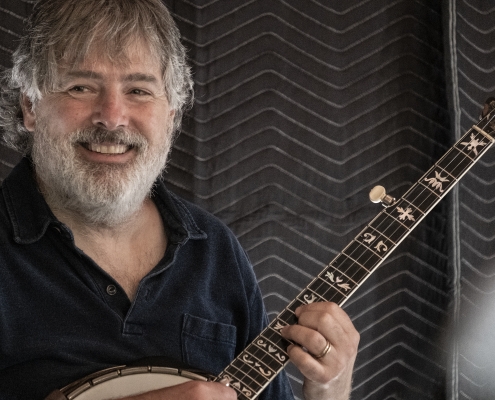 Béla Fleck
Just in case you aren't familiar with Béla Fleck, there are many who say he's the premiere banjo player in the world. Others claim that Fleck has virtually reinvented the image and the sound of the banjo through a remarkable performing and recording career that has taken him all over the musical map and on a range of solo projects and collaborations. If you are familiar with Fleck, you know that he just loves to play the banjo, and put it into unique settings.
A fifteen-time Grammy Award-winner, Fleck has the virtuosic, jazz-to-classical ingenuity of an iconic instrumentalist and composer with bluegrass roots. His collaborations range from his ground-breaking standard-setting ensemble Béla Fleck and the Flecktones to a staggeringly broad array of musical experiments. From writing concertos for full symphony orchestra, exploring the banjo's African roots, and collaborating with Indian musical royalty Zakir Hussain and Rakesh Churasia with Edgar Meyer, to performing as a folk duo with wife Abigail Washburn, and jazz duos with Chick Corea, many tout that Béla Fleck is the world's premier banjo player. As Jon Pareles wrote for The New York Times, "That's a lot of territory for five strings."
Over the last four decades, Béla Fleck has made a point of boldly going where no banjo player has gone before, a musical journey that has earned him 15 Grammys in nine different fields, including Country, Pop, Jazz, Instrumental, Classical and World Music. But his roots are in bluegrass, and that's where he returns with his first bluegrass tour in 24 years, My Bluegrass Heart.
My Bluegrass Heart is the third chapter of a trilogy which began with the 1988 album, Drive, and continued in 1991 with The Bluegrass Sessions. Fleck's band will spotlight a multi-generational gamut of the best of bluegrass players, all sporting a myriad of Grammy Awards and nominations, as well as gigantic piles of IBMA awards for their instruments: fiddler Michael Cleveland, mandolinist Sierra Hull, multi-instrumentalist Justin Moses, bassist/multi-instrumentalist Mark Schatz, and Bryan Sutton on guitar.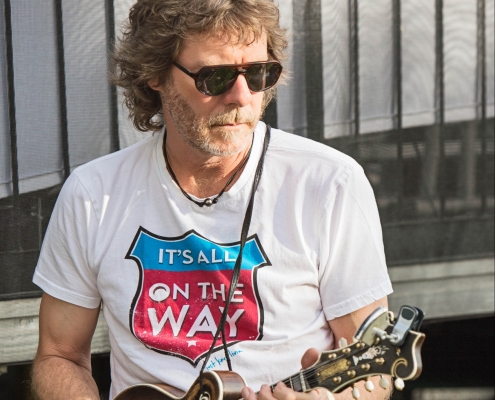 Sam Bush
On a Bowling Green, Kentucky cattle farm in the post-war 1950s, Bush grew up an only son, and with four sisters. His love of music came immediately, encouraged by his parents' record collection and, particularly, by his father Charlie, a fiddler, who organized local jams. As a teen fiddler Bush was a three-time national champion in the junior division of the National Oldtime Fiddler's Contest. In 1971, Bush formed the New Grass Revival with Ebo Walker, Courtney Johnson, and Curtis Burch, issuing the band's eponymous debut. Shunned by some traditionalists, New Grass Revival played bluegrass festivals slotted in late-night sets for the "long-hairs and hippies" and quickly became a favorite of rock audiences.
Bush was the newgrass commando, incorporating a variety of genres into the repertoire. He discovered a sibling similarity with the reggae rhythms of Marley and The Wailers, and, accordingly, developed an ear-turning original style of mandolin playing. The group released eight albums, chart-climbing singles, made videos, shifted their line up (welcoming in banjoist Béla Fleck and guitarist Pat Flynn in 1981) and earned Grammy nominations. After nearly 18 years together, and, at their zenith, called it quits.
Bush worked the next five years with Emmylou Harris' Nash Ramblers, then a stint with Lyle Lovett. He took home three-straight IBMA Mandolin Player of the Year awards, reunited with Fleck to tour with the Flecktones, and then finally, after a quarter-century of making music with New Grass Revival and collaborating with other bands, Sam Bush went solo. Since then he's released seven albums and a live DVD over the past two decades. His performances are annual highlights of the festival circuit, with Bush's joyous perennial appearances at the town's famed bluegrass fest earning him the title, "King of Telluride."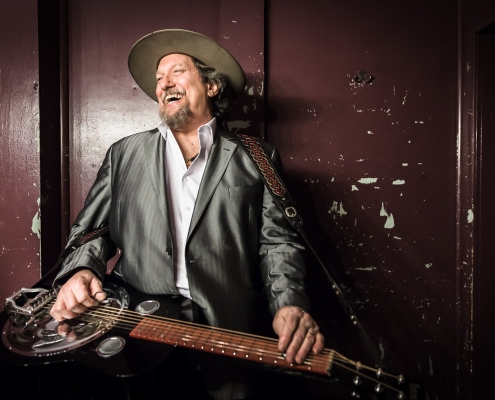 Jerry Douglas
Dobro master and 14-time GRAMMY winner Jerry Douglas is to the resonator guitar what Jimi Hendrix was to the electric guitar, elevating, transforming, and reinventing the instrument in countless ways. Additionally, Douglas is a freewheeling, forward-thinking recording and touring artist whose output incorporates elements of country, bluegrass, rock, jazz, blues, and Celtic into his distinctive musical vision.
Called "Dobro's matchless contemporary master" by The New York Times, three-time CMA Musician of the Year award recipient Jerry Douglas is one of the most innovative recording artists in music as a solo artist, band leader for The Jerry Douglas Band and his GRAMMY winning bluegrass band The Earls of Leicester, as well as a member of groundbreaking ensembles including Alison Krauss & Union Station, J.D. Crowe & the New South, The Country Gentlemen, Boone Creek, and Strength In Numbers. Douglas shines and soars. His distinctive sound graces more than 1500 albums with artists such as Garth Brooks, George Jones, Paul Simon, Little Big Town, James Taylor, Emmylou Harris, Elvis Costello, Earl Scruggs, Ray Charles, Dierks Bentley, and Tommy Emmanuel, among many others.
In addition to touring, Douglas has co-produced and performed on a series of platinum albums. He has produced albums for Alison Krauss, Del McCoury Band, Maura O'Connell, The Whites, Jesse Winchester, and Steep Canyon Rangers. He is co-music director of the acclaimed BBC Scotland TV series Transatlantic Sessions. In 2004, Douglas was recognized by the National Endowment for the Arts with an American Heritage Fellowship, and he served as the Country Music Hall of Fame and Museum's "Artist In Residence" in 2008. As Jerry Douglas continues his incalculable influence on country, Americana, bluegrass and their many related genres, he forges ahead as a true pioneer in American music.

BAND BIOS (My Bluegrass Heart)
Michael Cleveland
The world tends to look at accomplishments in the form of accolades and although only in his mid-30's, 2020 Grammy Award-winner Michael Cleveland, has plenty to his credit. Cleveland is IBMA's most awarded Fiddle Player of the Year with 12 wins, has won Instrumental Recorded Performance of the Year six times, and fronts their 6-Time Instrumental Group of the Year. And, he is a 2018 Inductee to the National Fiddler Hall of Fame. Picking up the fiddle at age 4, by age 9, Michael was invited to sit in with the legendary Bill Monroe at the Bean Blossom Bluegrass Festival. Soon after, he brought his virtuosic style to the Grand Ole Opry as a guest of Alison Kraus, and was hand picked for the IBMA Bluegrass Youth Allstars before he was 14. His blistering prowess and technical fluency have since marked him as a sought-after musician, leading to performances with Vince Gill, Marty Stuart, Tim O'Brien, J.D. Crowe and the New South, Andy Statman, and The Kruger Brothers in recent years. However, it wasn't until 2006, when Michael formed his own band Michael Cleveland & Flamekeeper, that he found the right vehicle for his musical vision, and he hasn't rested since, constantly looking for new ways to push himself and his music forward.
Sierra Hull
In her first 25 years alone, singer/songwriter/multi-instrumentalist Sierra Hull hit more milestones than many musicians accomplish in a lifetime. After making her Grand Ole Opry debut at the age of 10, the Tennessee-bred virtuoso mandolinist played Carnegie Hall at age 12, then landed a deal with Rounder Records just a year later. Now 28-years-old, Hull delivered her fourth full-length album for Rounder in 2020: an elegantly inventive and endlessly captivating album called 25 Trips. Revealing her profound warmth as a storyteller, the album finds Hull shedding light on the beauty and chaos and sometimes sorrow of growing up and getting older. To that end, the album's title nods to a particularly momentous year of her life, including her marriage to fellow bluegrass musician Justin Moses and the release of her widely acclaimed album Weighted Mind — a Béla Fleck-produced effort nominated for Best Folk Album at the 2017 Grammy Awards.
Justin Moses
Justin Moses is an award winning multi-instrumentalist celebrated as one of the most versatile musicians in all of acoustic music. A prominent Nashville session musician, he has appeared on stage or in the studio with an endless list of diverse artists such as Alison Krauss, Del McCoury, Garth Brooks, Emmylou Harris, Brad Paisley, Vince Gill, Bruce Hornsby, Béla Fleck, Peter Frampton, Rosanne Cash, Marty Stuart and Barry Gibb among many others. In 2018 and 2020 he was named Dobro Player of the Year by the International Bluegrass Music Association. Moses began his musical journey at the age of six after becoming interested in the mandolin. He soon developed a lasting passion for making music. He started to hone his skills playing in his family's band as a child. Since then, he's toured with bands such as Blue Moon Rising, The Dan Tyminski Band, Ricky Skaggs & Kentucky Thunder, Blue Highway and The Gibson Brothers. In his two-year stint with Tyminski, he realized an early dream of playing the Grand Ole Opry for the first time and recorded the 2009 IBMA Album of the Year and Grammy-nominated album, Wheels. He released his full-length album Fall Like Rain on January 22, 2021 with Mountain Fever Records.
Mark Schatz
Twice named IBMA's Bass Player of  the Year, Mark Schatz has toured and recorded with a stellar array of artists including Bela Fleck, Tony Rice, John Hartford, Tim O'Brien, Nickel Creek, Claire Lynch, and Sarah Jarosz. Mark is the Musical Director for internationally acclaimed Footworks Percussive Dance Ensemble which showcases other talents such as clawhammer banjo and Southern Appalachian clog dancing. This versatile multi-instrumentalist has two of his own solo recordings, Brand New Old Tyme Way and Steppin' in the Boiler House on Rounder Records, which feature his own eclectic blend of original compositions on the banjo, and two bass instructional videos on Homespun. Mark recently launched his own solo show: Mark Schatz — The Solo Concert, in which he brings all of his skills to bear to tell his story through his own tunes and songs.
Bryan Sutton
Bryan Sutton is the most accomplished and awarded acoustic guitarist of his generation, an innovator who bridges the bluegrass flatpicking traditions of the 20th century with the dynamic roots music scene of the 21st. His rise from buzzed-about young sideman to first-call Nashville session musician to membership in one of history's greatest bluegrass bands has been grounded in quiet professionalism and ever-expanding musicianship. Sutton is a Grammy Award-winner and a nine-time IBMA Guitar Player of the Year. But these are only the most visible signs of Sutton's accomplishments. He inherited and internalized a technically demanding instrumental style and has become for young musicians of today the same kind of model and hero that Tony Rice and Clarence White were for him. And supplementing his instrumental work, he's now a band leader, record producer, mentor, educator and leader in online music instruction.
Enjoy all of our upcoming performances on our new Byrider Stage!