Tickets Available for Five Performances:
Doors open half an hour before showtime!
Cole Porter's Kiss Me, Kate is a musical comedy set in 1950s Baltimore, Maryland. A "show within a show," the play portrays nearly every cast member in two different roles: as an actor in a traveling vaudevillian theatre troupe, and a character performing a musical production of William Shakespeare's The Taming of the Shrew. 
In Kiss Me, Kate, egotistical director and producer Fred Graham plays Petruchio opposite his movie-star ex-wife, Lilli Vanessi, who is playing Katherine. Their constant arguments include the fact that Fred is pursuing Lois Lane, a younger actress playing Bianca. After the troupe rehearses for the evening's opening show, we meet Bill, Lois's boyfriend who plays Lucentio. He missed the rehearsal to gamble away a large sum of money. Lovers' quarrels and the arrival of two gangsters looking to collect their pay ensue.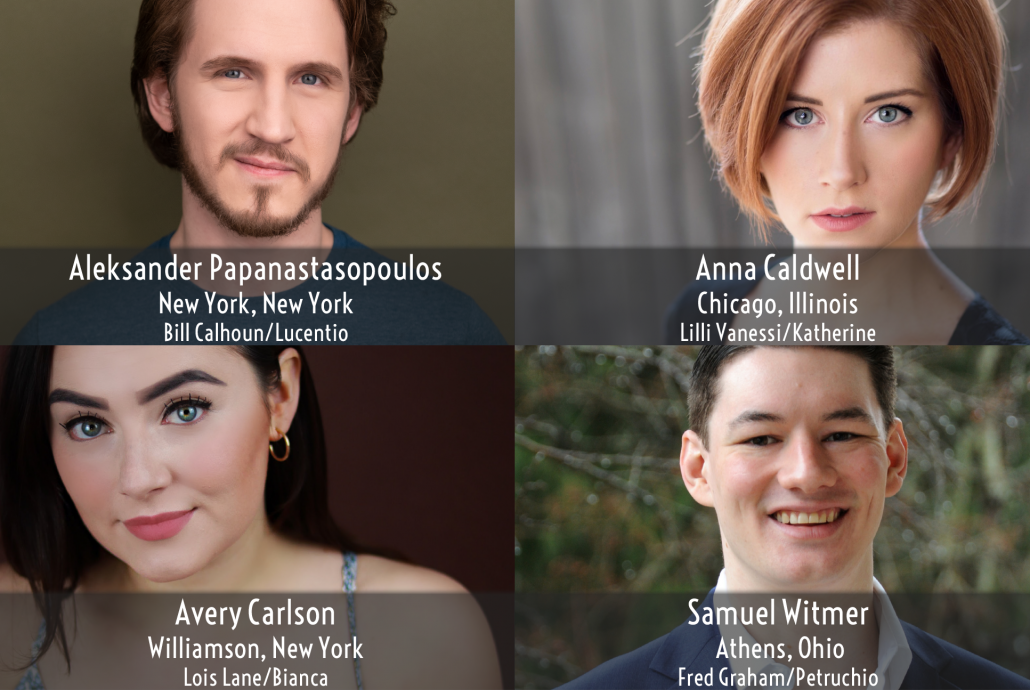 Featuring:
Aleksander Papanastasopoulos from New York, New York, as Bill Calhoun/Lucentio
Anna Caldwell from Chicago, Illinois, as Lilli Vanessi/Katherine
Avery Carlson from Williamson, New York, as Lois Lane/Bianca
Samuel Witmer from Athens, Ohio, as Fred Graham/Petruchio
Music and lyrics by Cole Porter. Book by Bella and Sam Spewack.
KISS ME, KATE is presented by arrangement with Concord Theatricals on behalf of Tams-Witmark LLC.
www.concordtheatricals.com