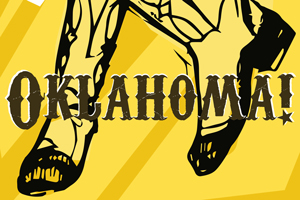 Please download and complete the Oklahoma! Audition Form and bring a copy with you to your audition.
Hipp Stage Productions announces OPEN AUDITIONS for its summer theatre production of Rodgers & Hammerstein's Oklahoma! at Peoples Bank Theatre. Auditions take place at 3 p.m. January 31 and 7 p.m. February 1. Call-backs will begin at 7 p.m. February 2. At 8 p.m., there will be a dance call for ALL those auditioning. All auditionees should arrive wearing comfortable clothing that is appropriate for movement and closed toe shoes. Dance attire and shoes are preferred, but not required.
CASTING REQUIREMENTS OF "OKLAHOMA":
We are looking for a cast of 30 adults and 4 children. The musical has 9 leading/featured roles: Laurie and Aldo Annie (20s), Curley and Will Parker (20s), Aunt Eller (50-60), Jud Fry and Ali Hakim (30-40s), and Andrew Carnes and Ike Skidmore (50-60s). Six men and six women of the 20 numbered Ensemble have to dance or show a propensity to dance. As stated AUDITIONS take place on January 31st and February 1st with call-backs on February 2nd. at the Peoples bank Theatre in Marietta.
REHEARSALS:
Acting and music rehearsals will begin at the end of February/early March; dance rehearsals will begin at the end of March/early April.
PERFORMANCES:
Performance dates are June 10-12 and June 17-19.
Score selections for the auditions
(click the links to download as a PDF)
Curly
Laurie
Ado Annie – "I Cain't Say No" (selected portions)
Will Parker – "Kansas City" (mm. 37 – 51)
Jud Fry – "Lonely Room" (selected portions)
Ali Hakim – "It's a Scandal" (selected portions)
Aunt Eller
Andrew Carnes – "Farmer and the Cowman – Carnes" (mm. 104 – 136)
Chorus

"Chorus #1 All" (mm. 17-36)
"Chorus #2 Ladies" (84-95)  Try to learn the melody (top part) and at least one other part; however, having this section learned before the audition is NOT required.  If needed, we will assist you at the audition in learning a short section of this part-singing example.
"Chorus #3 Men" (mm. 9 – 16; 58-85 – excluding Ali Hakim's lines)
https://peoplesbanktheatre.com/wp-content/uploads/2015/12/feature-oklahoma.jpg
200
300
Drew Tanner
https://peoplesbanktheatre.com/wp-content/uploads/2019/07/PBT_Logo_FinalArt_White-Trans-300x138.png
Drew Tanner
2015-12-21 11:33:41
2016-02-02 09:44:57
OPEN AUDITIONS: Oklahoma!